HIGHLIGHTS FROM 2018

Happy New Year to all our friends around the world! A new year has begun, a year full of exciting opportunities and plans. The next season will start earlier than ever, on 1st March. But before we shift all focus to the future, we would like to take a quick look back at our highlights of 2018.

Long story short, Gentle Giants had a great year with amazing whale encounters, new state-of-the-art headquarters and a fantastic team to be very proud of.

Our 2018 whale watching season started with a blast with orcas and fin whales spotted on the first day of the season. The party continued and blue whales and humpback whales soon joined the festival. From late April and throughout the whole season until end of November, humpback whales were seen almost daily in Skjálfandi Bay, sometimes in large numbers up to 30 individuals per tour and showing active behaviours such as breaching, flipper-slapping and lobtailing, to much joy to crew and passengers. Among other frequent sightings in the bay were minke whales, white-beaked dolphins and harbour porpoises. We also had some rarer visitors such as northern bottlenose whales, sperm whales and the blue-fin hybrid, which has been seen in the bay almost every year for some time. To give an idea how great the whale sightings were, on the last tour of the season in November, ten humpback whales and four minke whales were seen. All in all, fantastic whale sightings in 2018.

Feeding humpback whales close to our RIB speedboat. Photo: Clément Brun.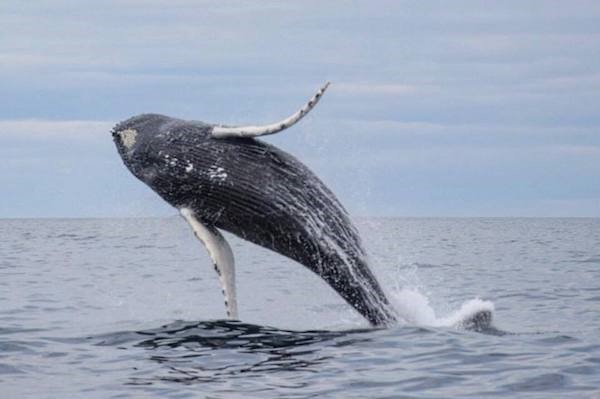 Breaching humpback whale.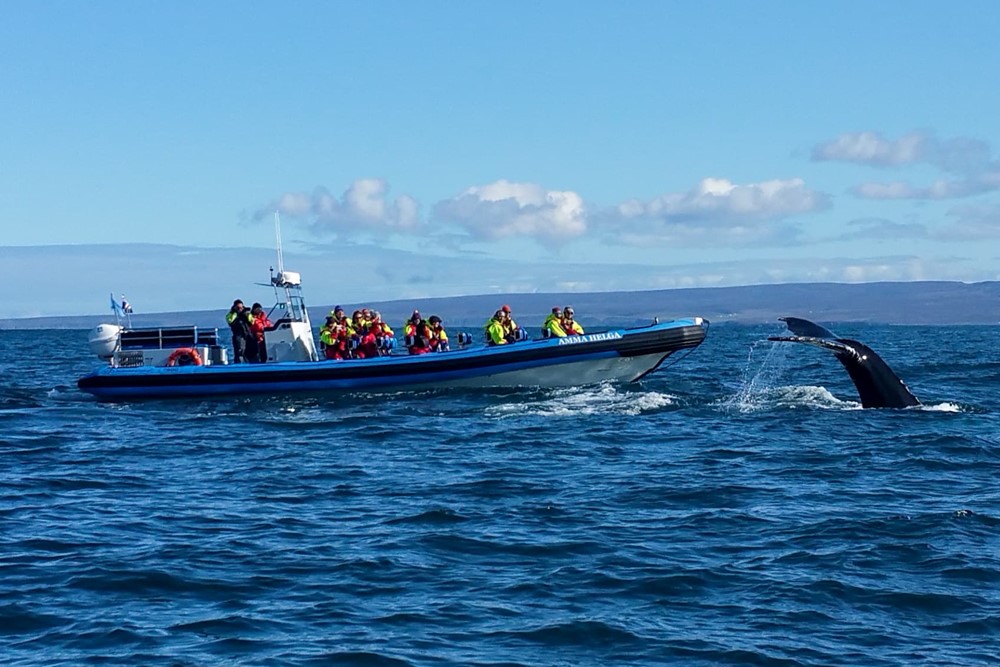 Humpback whale diving in from of our RIB Amma Helga. Photo: Sarah Arndt.

Last year we started offering Big Whale Safari & Puffins on our RIB speedboats at 21:30 during the high summer months. These "Midnight Exclusive" tours proved to be successful and often amazing, with the midnight sun if the conditions allowed, calmer seas and less boat traffic. That is the beauty of the long daylight in Iceland during the summer months.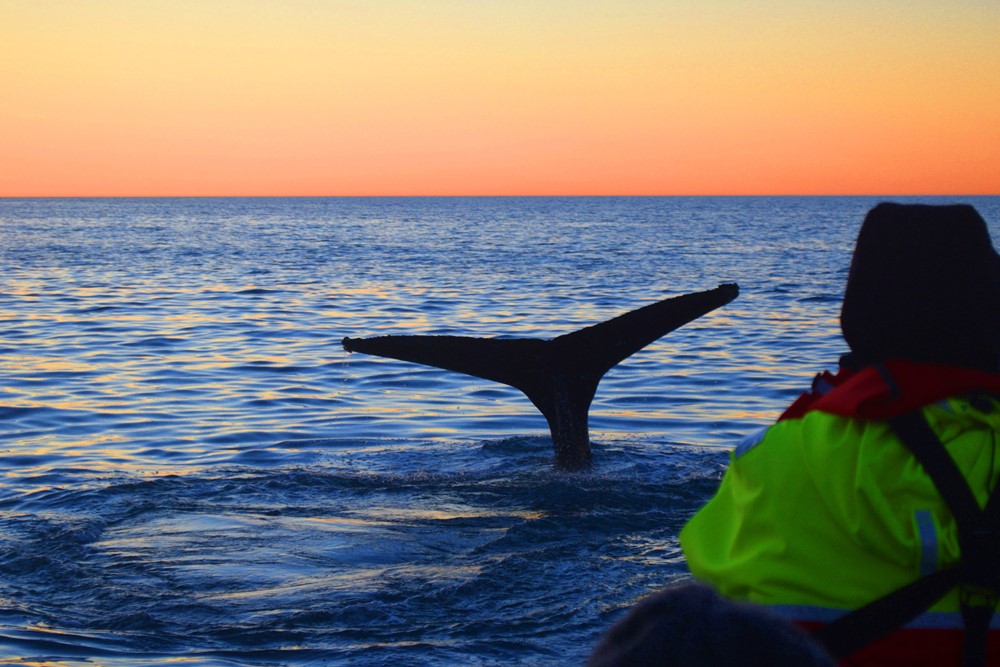 A beautiful humpback fluke. Photo: Mark Badalan.
The biggest change for the company was without doubt the opening of our newly-renovated luxury headquarters Flóki, right down at Húsavík harbour. For several years, we have rented the building for our daily operations but then bought it and renovated it completely. In late spring, the headquarters were ready. On the bottom floor is a workshop and a pro washing room for equipment and on the top floor is our office, overlooking the harbour and the bay. It is sure to say, that the new headquarters have revolutionized the company's operations to the better.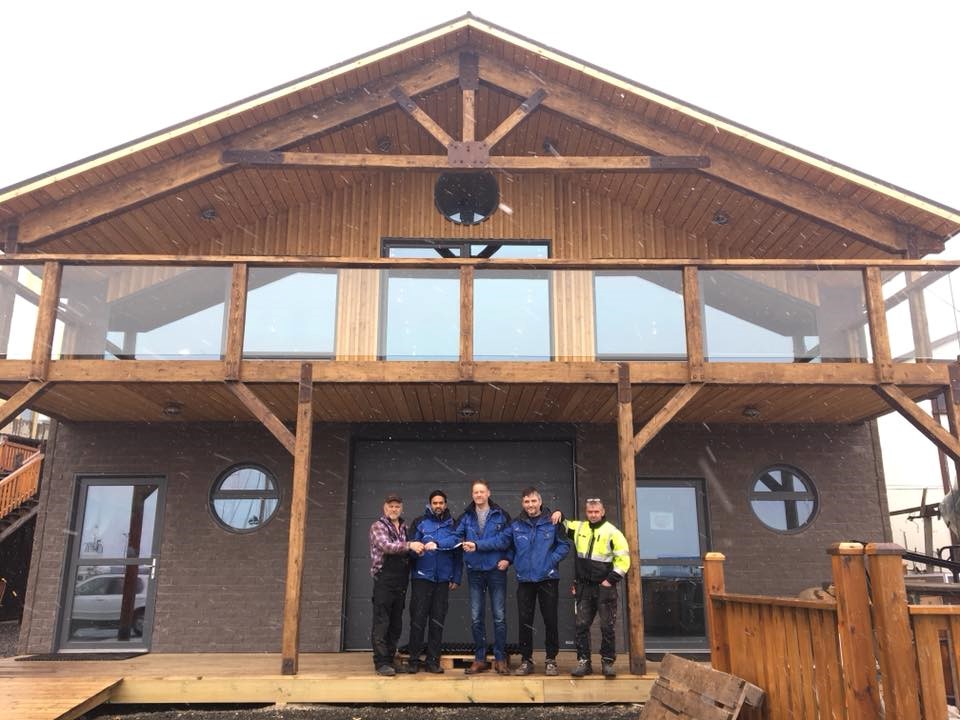 Key handover last spring of the new Flóki after renovation. Photo: Alexia Annisius Askelöf.

New offices in Flóki with a stunning view over the harbour and bay. Photo: Daniel Annisius

Gentle Giants' crew is a good mix of local and international people with diverse backgrounds and experiences. We all share a passion for whales and their nature. The staff of 2018 was incredible and each and every one strive to give our guests the best experience possible. Many of our team members return year after year, and 2019 will be no different regarding that.
Giant thanks to all of our passengers, co-operators and staff for making our 17th year so memorable and successful!
We are now looking forward to share season 2019 with you – starting on 1st March.
Great memories from 2018 – here below a drone footage video from one of our tours taken by our guide Daniel González.
BREATHTAKING DRONE FOOTAGE OF HUSAVIK HUMPBACKS

Take a virtual trip on our oak boat Faldur to see the amazing beauty that our guests can experience! Click the link below to read the story behind this stunning short film by Gentle Giants guide Daniel González. -Aksel https://www.gentlegiants.is/news/2018/06/25/first-drone-footage-from-faldur

Posted by Gentle Giants Whale Watching on Monday, June 25, 2018
Top photo taken by Sarah Arndt.