HIGHLIGHTS FROM 2016

A new year has come and we all look forward to the upcoming season. But before leaving last year behind we would like to go over some of the highlights from 2016 at Gentle Giants. All in all, a great season with wonderful whale encounters, a new RIB boat and a fantastic team.

Season Start
On April 1st we officially started our 15th season offering whale watching tours from Húsavík. At the same time as the first scheduled departure at 09:45, our new and nice website was launched, fulfilling all modern security requirements and fully responsive to make it easier to book a tour with us from any device. And we indeed saw a huge increase in online bookings through our new web.

Whale Sightings
Season 2016 will be memorable regarding whale sightings. Maybe one of the best years ever with the whales? At least it is safe to say, that from the beginning to the end, the bay was full of life with various whale species.

The main stars were humpback whales, which were basically seen throughout the whole season. Often they were spotted in very large numbers, even impossible for the crew and passengers to count. The bay was rich of food and a complete feeding frenzy going on. The humpbacks are known for being acrobatic and often showed active behaviours such as breaching, flipper-slapping and lobtailing. As individual humpbacks are easily identified by their unique pattern underneath their flukes, we spotted some well-known whales like Orien and Snow White, who have been regular visitors in the bay for some years. It is impressing to know that wild animals choose to return to the rich feeding grounds of Skjálfandi Bay again and again.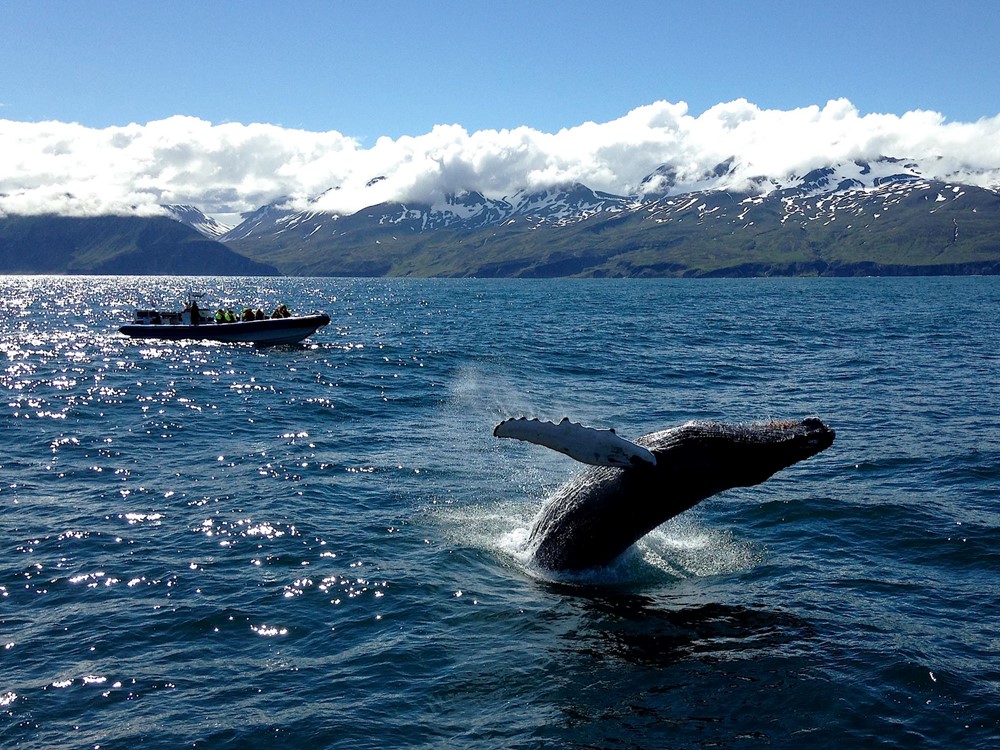 Breaching humpback whale next to our RIB boat. Photo: Clément Brun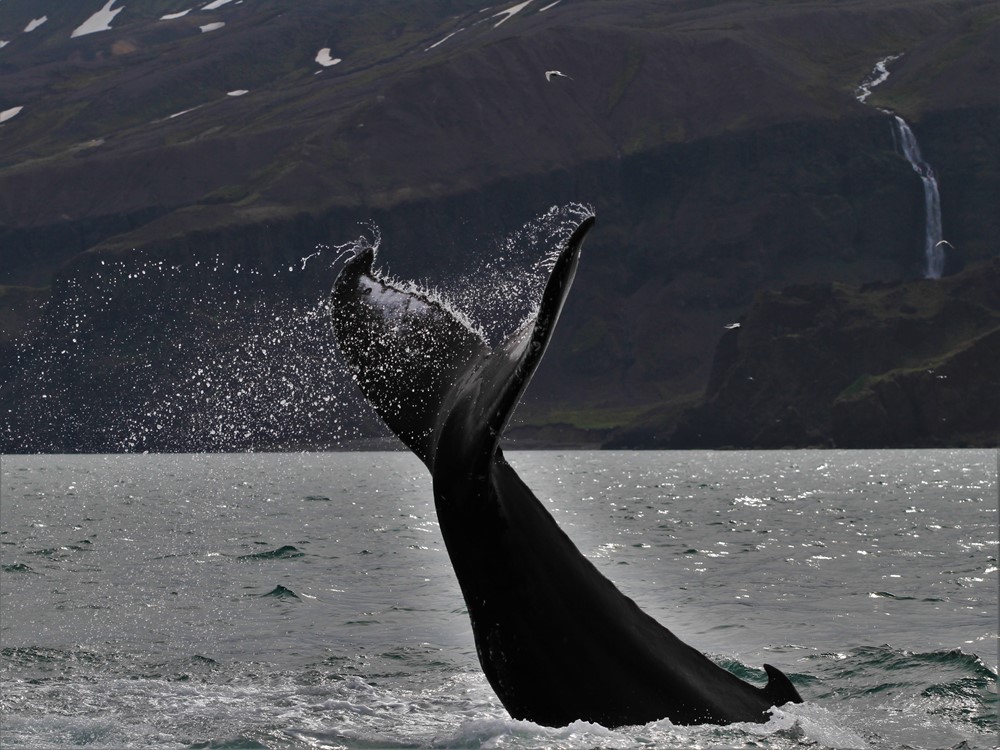 A lobtailing humpback. Photo: Sarah Arndt

Blue whales were also quite prominent this season, with first sightings already in the early spring and last in the late autumn. On several occasions, the blues were rather far out and only our RIB boats could reach them. It is indeed a privilege being in the presence of those largest animals on earth which can reach up to 33 metres in length and 190 tonnes. As the years before, we also had a few visits of a blue/fin whale hybrid.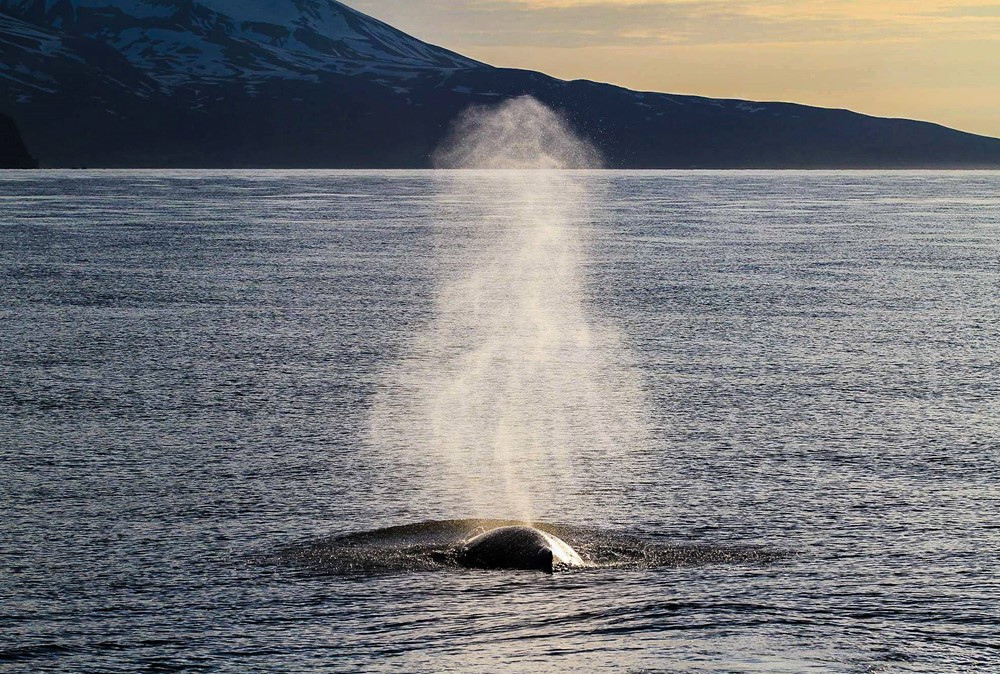 A powerful blow from a blue/fin hybrid. Photo: Miroslav Cibul'a
Late summer and autumn we had a period with sightings of species rare to us. Large pods of long-finned pilot whales visited the bay, as well as orcas, fin whales and even sperm whales. Of course not to be forgotten are the minke whales, white-beaked dolphins and harbour porpoises, that also played their role throughout the season.
New RIB Boat
One of the biggest highlights for the company was the arrival of our new RIB. On the 23rd June she sailed into her new home harbour Húsavík and joined our fleet. Newly designed and built for us in Poland, this boat is a VIP edition with luxury seats and a table at the back. The boat was named Amma Helga, which means Granny Helga, after the owner's mother.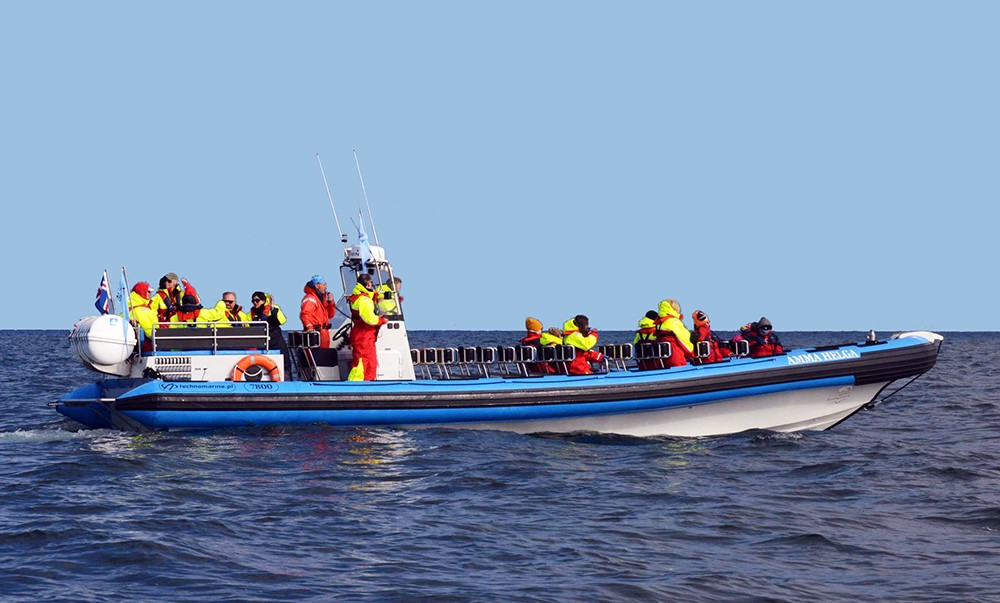 Brand new RIB Amma Helga out with passengers on Skjálfandi Bay.
With a total fleet of four modern RIBs, two traditional oak boats, and a fibreglass boat, we offered a wide range of seafaring adventures from Húsavík – not only whale watching but also all kinds of fun trips, sea angling, staff trips, research expeditions, bird watching, BBQ tours, field trips, island visits, and cruise ship shore excursions.
A panorama view from Flatey Island. Photo: Sarah Arndt
Season End
The whale watching season has been extending gradually and for the first time in the company's history, we offered tours in November. This proved to be successful both with whales, weather and whale watchers. The last tour of the season finished in a special way with a humpback breaching many times near our oak boat Faldur.
Great Staff
Gentle Giants is made out of a team of wonderful people. They are the face of the company and ready to do their best to give our guests a good experience. This year the team was bigger than ever before, a mix of local and international expertise with people from 10 different nationalities. Along with regular safety trainings, we also had a lot of fun with BBQ nights and staff trips, e.g. sailing on our RIBs to Dalvík's "Great Fish Day Festival".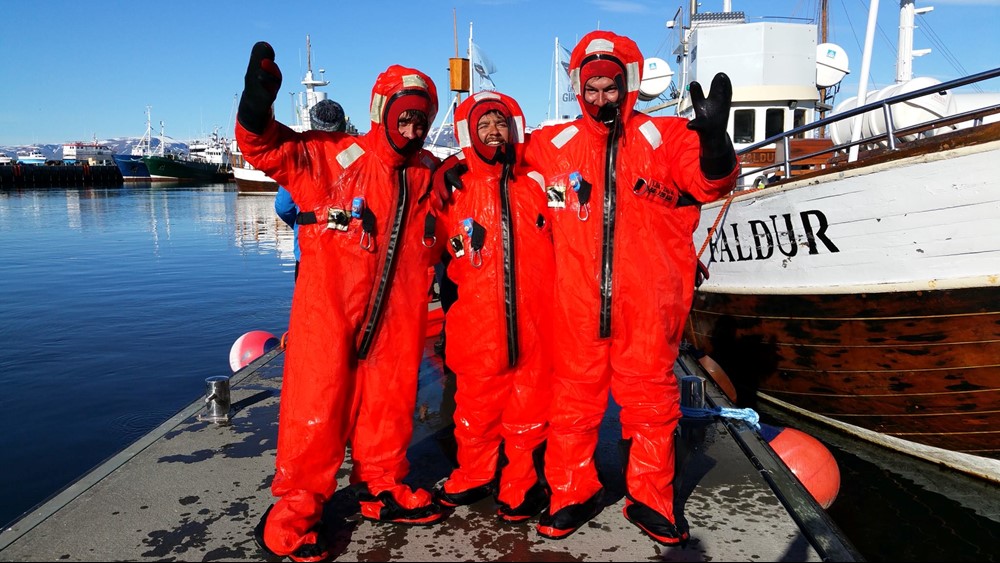 Guides after a successful rescue drill. Photo: Sarah Arndt
Busy Sales Team
The company is growing from year to year and our sales team both in Iceland and abroad was very busy. We attended travel trade shows such as Mannamót in January, Mid-Atlantic in February, Promote Iceland workshop in Scandinavia in April, and Vestnorden in October. Always proudly representing Gentle Giants, strengthening existing business relations and creating new ones. This also contributed to a season where we welcomed more guests on board our boats than ever before.
On behalf of Gentle Giants I want to thank all of our passengers, co-operators, staff, and not at least the whales of Skjálfandi Bay, for making our 15th season so memorable and successful. We hope that the next one will be just as good or even better, and look forward to welcome you aboard with us in 2017!
Good memories from 2016 - photos below taken by our crew Sarah Arndt, Charla Basran and Clément Brun.